Our research for this post:
Are you looking for the best angle grinder wheel for cutting metal? There are so many good angle grinder wheels out there, it can be hard to make the right decision.
We will help you find the angle grinder wheel that will work best for metal!
Are you looking for an angle grinder that can be used with these wheels? Check out our guide: Best cordless angle grinders or best corded angle grinders.
Here are the best angle grinding wheels for cutting metal:
DEWALT General Purpose (DW4523)
DEWALT General purpose grinding wheel
High performance aluminum oxide grain for long life and high material removal of the grinding wheel
High grain concentration of the grinder disc is made for aggressive grinding action and smoother running wheels
Proprietary material mix of 4 1/2 grinding wheels ensures durable long life wheels
3 full sheets of fiberglass for durability and safety
Angle grinder wheels come in a million different grains and sizes. It comes to nobody's surprise that DEWALT is one of the most popular disk manufacturers.
Why choose DEWALT grind wheels
They offer a three-year limited warranty on most of their products. Also, they are proven to be one of the best power tool manufacturers. You really can not go wrong with them!
These grinding wheels are ideal to pair with a DEWALT grinder. Read: The best DEWALT angle grinders to find out which are our favorite DEWALT angle grinders.
Specs
This grinding wheel is made of aluminum oxide. A longer-lasting and safer material than some other grinding wheels on this list.
The DEWALT DW4523 all-purpose grinding wheel can be used for all 4 1/2″ inch grinders.
Truswe Cut Off Wheel
Trus WE ultra-thin metal disks
Perfectly compatible with all 4-1/2 inch(115mm) angle grinders with 7/8 inch(22.2mm) arbor
Metal cutting discs are made of aluminum oxide grains. More safe than other wheels that may shatter or prematurely wear
Bonded with corundum and white alundum grain and reinforced by double fiberglass mesh
Cutting discs are designed for hard and continuous use on all metal
Truswe is a less known brand that specializes itself in grinding disks. For this reason, they produce some of the best quality angle grinding wheels on the market!
specs
This grinding wheel in particular is extra thin and super durable. Truswe metal grinding disks are made for 4 1/2 inch angle grinders.
They are made of Aluminum oxide. These fibers stick together making this grinding wheel safer than others on this list. The aluminum oxide will not shatter and will wear less than other materials.
The only thing to keep in mind when buying Truswe grinding wheels is that they come in a pack of 50.
EZARK Cut Off Wheel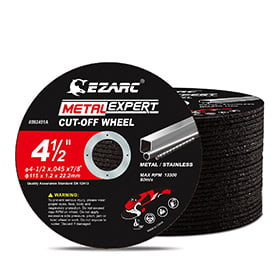 EZARK metal grinding wheel
made of iridium-plated white corundum, so our cut-off wheel has 2 times the cutting life of a normal cutting wheel.
ultra-thin design of 0.45inch thickness cutting off wheels provides fast, precise, and clean cutting performance with minimal burrs and material waste.
Tough abrasive cutting discs are ideal for super-fast, clean cutting in carbon steel, stainless steel, iron, copper, and all other ferrous metals.
Ezark is a less known brand that specializes itself in grinding disks. For this reason, they produce some of the best quality angle grinding wheels on the market!
specs
EZARK grinding disks are made of Iridium-plated white corundum. These are in general a bit more durable than standardAluminum oxide disks.
However, the biggest drawback of corundum is that it has a higher risk to shatter. Therefore we recommend extra safety protection when you are using these grinding disks.
Unfortunately these disks also only come in a pack of 25.
Frequently asked questions
Can I use an all-purpose grinding disk for metal?
You can! However, keep in mind that these wheels tend to wear out quicker while grinding metal compared to a dedicated metal grinding wheel.